Role: Bomber/Torpedo-bomber

Manufacturer: Savoia-Marchetti

First flight: 5 June 1940

Introduction: 1941

Retired: 1945

Primary user: Regia Aeronautica

The Savoia-Marchetti SM.84 was an Italian bomber aircraft of the Second World War. It was designed by Savoia-Marchetti as a replacement for its successful SM.79, and shared its three-engined layout. However, although it entered service with the Regia Aeronautica in 1941, it never replaced the SM.79, being retired from service before it.



Development


Development of an aircraft to replace the SM.79 started in 1939, with Savoia-Marchetti choosing to produce an improved development of the SM.79, using the same wing as its predecessor, but with a new fuselage and more powerful engines.The first prototype flew on 5 June 1940,just 5 days before Italy's entry into the Second World War.

It was hoped to replace the SM.79s in service, which were fast, but obsolescent, and yet to be adapted as torpedo-bombers. The main improvement was the adoption of new and more powerful engines, giving a total output of 3,000 hp. The machine was put into production at the end of 1940.



Design


It shared the basic design of a three-engined mixed construction monoplane as the SM.79. Wood was used for the wings, supported by three spars. Steel tubing was used as a skeleton for the fuselage, covered by metal (forward), fabric and wood. The new fuselage housed a crew of 5-6, with the pilots sitting side-by-side. Behind them there were a radio-operator and flight engineer. They enjoyed a large windscreen and eight windows in the fuselage.

The armour was much improved compared to the almost nonexistent protection fitted to the SM.79; it was said there was a total of 700 kg fitted, however it is unclear if this also included the self-sealing fuel tanks, bullet-proofed up to 12.7 mm rounds. One noticeable difference was the twin tail, which gave a better field of fire to the dorsal gun, and helped to cope with the greater power and weight compared to the SM.79.

Armament was similar to the Cant Z.1007, rather than the SM.79. There was a dorsal Caproni-Lanciani Delta turret, with a 12.7 mm caliber Scotti machine-gun, and 350 rounds. Another Scotti was in the ventral gondola. Other two Scotti were in the flanks with six 120 round belts. It was a theoretical improvement, though Scotti machine guns, even with a slightly higher rate of fire, were much less reliable than the Breda. Another disadvantage was the inability of the turret to fire directly forward, through the propeller's blades, so the aircraft had no defence from frontal attacks.

The bomb bay was in the middle of fuselage. Horizontally mounted, the aircraft could carry two 500 kg, three 250 kg, ten 100 kg, or ten 50 kg bombs. Outside the fuselage it was possible to mount two 500 kg or 800 kg bombs, or two torpedoes, or even smaller bombs like eight 100 kg or 50 kg (but really weighing of 130 kg and 70 kg). Generally the aircraft carried only one torpedo or around 1,000 kg of bombs. The aiming apparatus was a Jozza U3, fitted in the bombardier's nacelle, just below the cockpit. It was retractable when not in use, to reduce drag.

An OMI camera was fitted in the fuselage, while in the tail section it was possible to mount one of three different cameras, like the AGR.90 or 91.

Three Piaggio P.XI RC.40 engines, giving 1,000 hp at 4,000 m were fitted. There were 16 self-sealing fuel tanks inside the wing and the fuselage, six for the central engine (1,070 litres) and five for each wing engine (1,095 litres). Total fuel load was 3,260 litres, which was less, despite the more powerful engines, than previous Italian bombers. It was possible, however, to mount another three fuel tanks: two of 415 litres in the fuselage, and one of 2,500 litres in the bomb-bay.

With these engines, at full load the SM.84 was capable of:

* 400 km/h at 1,000 m.

* 418 km/h at 2,000 m.

* 437 km/h at 3,000 m.

* 456 km/h at 4,000 m.

* 467 km/h at 5,000 m.

* 450 km/h at 6,000 m.

Climb rates to:

* 1,000 m in 2 min 32 sec.

* 2,000 m in 5 min 25 sec.

* 3,000 m in 8 min 2 sec.

* 4,000 m in 10 min 54 sec.

* 5,000 m in 14 min 48 sec.

* 6,000 m in 19 min 18 sec.

The maximum practical ceiling was 8,200 m. At 5,500 m and 397 km/h, it had 5 hour 17 minutes endurance, and a range of 2,040 km. As was expected, the performance of the SM.84 was superior to the SM.79.



Operational history



The first unit to operate the aircraft was 12° Wing, 41° Group, on 2 February 1941. Based at Rodi, the first actions of this Group were not successful, and two aircraft landed in Turkey.

36° Wing received its SM.84s on 7 May 1941, and was based at Decimomannu airbase, Sardinia, from September 1941. On 27 September 1941 twelve aircraft from 108° and 109° Gruppo, 36° Wing took off to attack a British convoy to Malta (Operation Halberd). One aircraft turned back after developing a mechanical fault, but the the remainder pressed on with their attack. The first group, led by Arduino Buri, attacked the British ships and Buri managed to torpedo HMS Nelson, putting her out of action for six months. Of the first section, one aircraft was shot down, and the second section had two aircraft shot down out of three. When Seidl went in with his five aircraft, he was shot down together with another two. While the damage to HMS Nelson was a success, the only one this type that Italian torpedo bombers obtained, it was paid with the loss of six aircraft, and almost all the crews, more than 30 men. The next day a merchant ship of the convoy was sunk by SM.79s with only one loss. The rest of the convoy reached Malta with their supplies.

After these losses, 36° Wing continued in its task to attack enemy ships, and sank the merchant ship Empire Defender in November, and badly damaged HMS Penelope on 9 April 1942.[citation needed] 282° Squadriglia was also involved in such missions, with some success.

7° Wing, based in Sicily, used SM.84s to bomb Malta in July 1941. In mid-October 1941 32° Wing were equipped with SM.84's, one group of torpedo-bombers and the other of bombers, to best optimize the attack against ships. This Wing took part in attacks on the Allied landings of Operation Torch, but by the end of December the unit had lost 20 aircraft and was retired from operations.

In June 1942 fourteen torpedo-bombers of 36° Wing and nine bombers of 4° Gruppo attacked the Malta convoy of Operation Harpoon, with at least two losses to Spitfires, and one downed by Anti-aircraft fire.

During Operation Pedestal in August 1942 ten SM.84s used special torpedoes (MFF), to attack the convoy, losing two aircraft to enemy fighters. Aircraft of 32° and 36° Wing also attacked the convoy, and only five of the fourteen ships of the convoy reached Malta.

While other groups were still receiving the aircraft, 36° and 7° Wing had stopped flying it by December 1942. The decline had already started. The use of the aircraft to resupply troops in North Africa was a failure, as the payload was too small. The aircraft was gradually phased out, replaced by the Z.1007, and even the SM.79. By 10 July 1943 43° Wing, flying from Gioia del Colle, Puglia, was the only unit still flying the SM.84.

In September 1943 there were still 150 SM.84s, with over 100 serviceable. Almost all of these were captured by Germans, though they were little used. Some were sent to the Slovak Air Force, and ten remained with RSI's Aeronautica Nazionale Repubblicana, but were not used. Seven were used by the Italian Co-Belligerent Air Force as transports.



Variants



S.84bis

With several modifications, but not a substantial evolution.

S.84ter

A single aircraft, completed in 1944, fitted with 1,500 hp Piaggio P.XII engines, capable of speeds over 500 km/h. Destroyed by fire during a landing accident in 1946.



Operators



* Italy

o Regia Aeronautica

o Italian Co-Belligerent Air Force

* Germany

o Luftwaffe

* Slovakia

o Slovak Air Force


Specifications (SM.84)

General characteristics
* Crew: 5

* Length: 17.93 m (58 ft 10 in)

* Wingspan: 21.10 m (69 ft 7 in)

* Height: 4.59 m (15 ft 1 in)

* Wing area: 61.0 m² [2] (656.6 ft²)

* Empty weight: 8,846 kg[2] (19,502 lb)

* Loaded weight: 13,288 kg (29,330 lb)

* Powerplant: 3× Piaggio P.XI RC 40 14-cylinder air-cooled radial engines, 746 kW (1,000 hp) each



Performance


* Maximum speed: 432 km/h (233 knots, 268 mph) at 4,600m (15,000 ft)

* Range: 1,830 km (1,041 nm, 1,137 mi)

* Service ceiling 7,900 m (25,900 ft)



Armament


* Four × 12.7 mm Scotti machine guns (One in dorsal turret, one in ventral position and two in waist positions

* 2,000 kg (4,400 lb) of bombs or 2 torpedoes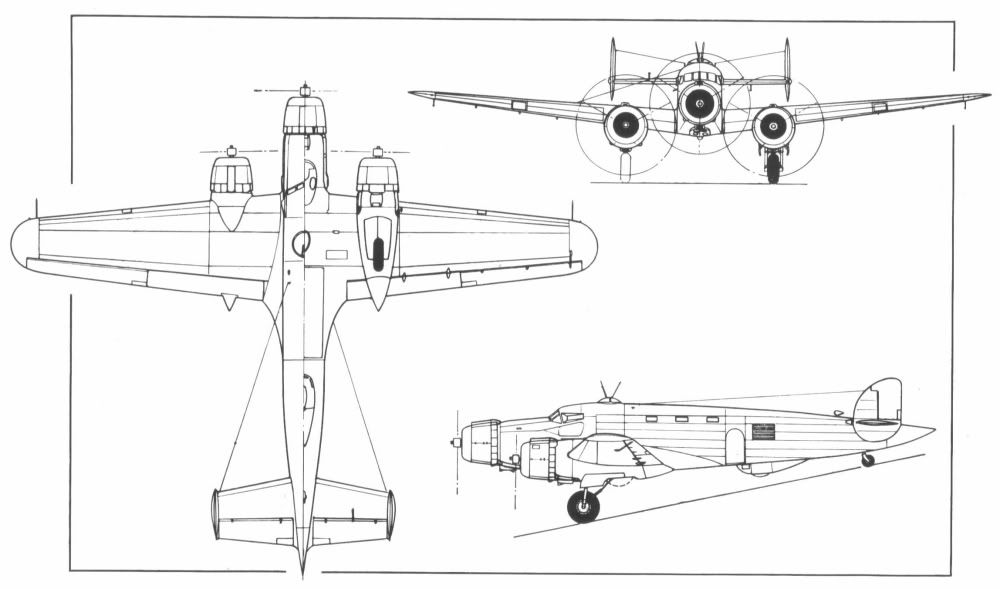 Verkleinde afbeelding. Klik om te vergroten.