Tactisch grondaanvalsvliegtuig.
In antwoord op specificatie F.18/37 van het Air Ministry begon Hawkers Sydney Camm in 1937 aan het ontwerp van de Typhoon.De specificatie bedong dat de motor een Rolls-Royce Vulture X-Type of een Napier Sabre H-Type moest zijn,dus werden er in eerste instantie twee prototypes gebouwd.Het prototype met de Vulture motor stond bekend als de Tornado.
Beide typen hadden problemen met de motor,maar de problemen van het model met de Sabre motor,aangeduid als Typhoon,werden opgelost omdat de firma Napier meer tijd en energie kon besteden aan de ontwikkeling.Rolls-Royce had al te veel te stellen met de Merlin om voldoende middelen in te zetten voor het verbeteren van de tegenvallende Vulture motor.
Nadat het Typhoon prototype op 24 februari 1940 zijn eerste vlucht had gemaakt,bleek het cascoproblemen te vertonen.Die waren nog niet verholpen toen het toestel in dienst werd genomen.Het oorspronkelijke prototype had vleugels met twaalf machinegeweren,en toen het in productie genomen werd,kreeg dit type de aanduiding Typhoon Mk 1A.
Alle productie-Typhoons,in totaal zo'n 3300 stuks,werden door Gloster gebouwd.Een tweede prototype,dat op 3 juli 1941 zijn eerste vlucht maakte,had vleugels met vier 20-mm Hispano kanonnen,en kreeg in productie de aanduiding Typhoon Mk 1B.
Squadron Typhoons.
De eerste productietoestellen werden n september 1941 aan de RAF geleverd,in eerste instantie aan No.56 Squadron.In dienst werd al snel duidelijk dat de cascoproblemen niet verholpen waren.
Verschillende piloten verloren het leven,en het Air Ministry overwoog het type uit dienst te nemen.Gelukkig ontdekte Hawker waarom beangstigend veel toestellen hun volledige staartsectie verloren,maar het duurde tot eind 1942 voor alle motor- en cascoproblemen verholpen waren.Ook toen nog had de Typhoon een matige klimsnelheid,maar anderzijds had het toestel een hoge topsnelheid op lage hoogte,die in november 1941 voor het eerst uitgebuit werd.No.609 Squadron,destijds gestationeerd in Manston,Kent,vernietigde vier Fw 190's in hit-and-run aanvallen.
Tegen eind 1942 was de Typhoon een uitstekende Jachtbommenwerper geworden,voortgestuwd door de verbeterd Napier Sabre IIA motor,bewapend met vier 20-mm Hispano kanonnen,en met een bommenlading van 113- of 227-kg bommen onder de vleugels.Typhoon Squadrons bestreken Frankrijk en de Lage Landen en conentreerden zich op het verstoren van de Duitse communicatielijnen,maar pas eind 1943 werd het potentieel van de Typhoons Mk 1B ten volle gerealiseerd door hem uit te rusten met raketten met een lading van 27 kg.In deze vorm was de Typhoon effectief tegen Duitse kustvaart en tanks,en de bijna constante aanvallen bij dag en nacht op de Duitse communicatie droegen in hoge mate bij aan het geallieerde succes op D-day.De Typhoons bouwden een reputatie op alstreinkillers en als korteafstand luchtsteuntoestellen.Vanaf eind 1943 werden ze ook ingezet voor de cruciale 'Noball' aanvalen op veronderstelde V-1 lanceerplaatsen,die bijzonder seriues genomen werden.
Meer vermogen.
In de laatste stadia van de oorlog veranderde er weinig aan de Typhoon,alleen werden er iets krachtigere Sabre IIB en IIC motoren aangebracht.Enige andere varianten waren een enkele Typhoon NF.Mk IB Nachtjager en een klein aantal Typhoon FR.Mk IIB tactische verkenningsvliegtuigen.Sommige productietoestellen werden toegewezen aan eenheden van de Royal Canadian Air orce en de Royal New Zealand Air Force die in Europa opereerden.Hoewel hij in het begin zo onbetrouwbaar was dt hij bijna uit dienst was genomen,werd hij op zijn toppunt door niet minder dan 26 Squadrons van de 2nd Tactical Air Force gebruikt.Na de wapenstilstand in Europa bleven er weinig toestellen in dienst.
Specificaties.
Hawker Typhoon Mk 1B.
Type:
eenzits jachtbommenwerper
Voortstuwing:
een Napier Sabre IIA H-type zuigermotor van 1626 KW(2180 pk)
Prestaties:
Topsnelheid:663 km/u op 5790m ; Kruissnelheid:531 km/u op 4570m , Klimsnelheid:Tot 4570m in 5'50".
Plafond:
10.730
Bereik:
1577 km et afwerptanks op 821 km met standaardtank en twee 227-kg bommen.
Vliegtijd:
2u24min met standaardtanks.
Gewicht:
Leeg:4445 kg;Max. startgewicht 6010 kg
Afmetingen:
Spanwijdte 12,67m;Lengte 9,74m;Hoogte 4,67m;Vleugeloppervlak 25,93 vierk.m
Bewapening:
vier vaste 20-mm Hispano kanonnen vooraan in de vleugels,plus maximaal 907 kg aan bommen/raketten.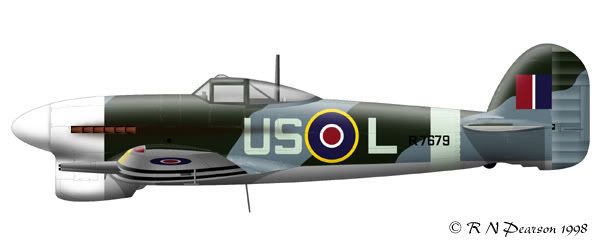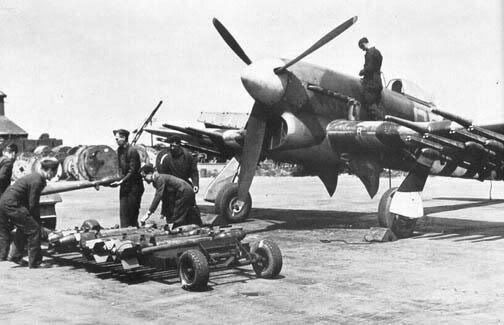 Een Typhoon krijgt zijn dodelijke lading(vliegveld Melsbroek/Brussel,1944).