Nieuw tijdperk in oorlogvoering.
Tussen 1940 en 1945 creëerden internationale wetenschappers,gebruikmakend van het kapitaal,de wetenschappelijke expertise en de industriële basis van Amerika,twee typen atoombommen.Beide werden met afschuwelijke gevolgen ingezet om de oorlogmet Japan te beëindigen.
In reactie op het nieuws dat Duitsland actief bezig was met de ontwikkeling van een atoombom,schreven de voor de nazi's gevluchte Hongaarse natuurkundige Leo Szilard en Albert Einstein een brief aan president Roosevelt,aarin ze hem aanspoorden om het programma rond een A-bom te beginnen.Onder de bezielende leiding van generaal Leslie Groves ging het Manhattan Project in 1940 serieus van start.
Splijtstofkeuze.
De keuze voor een bepaald type splijtstof was van wezenlijk belang voor het project.Hoewel de Deense natuurkundige Niels Bohr uranium had voorgesteld en Glen Seaborg al in 1941 met de suggestie voor plutonium kwam,bleef het probleem van het verkrijgen van voldoende hoeveelheden bestaan.Uranium is redelijk goed verkrijgbaar,omdat het op natuurlijke wijze als erts voorkomt.Plutonium wordt vanuit uranium verkregen.Maar geen van beide was meteen toepasbaar voor het maken van een atoombom.Szilard had uiteengezet dat de splijtstof voor een a-bom een kettingreactie moest veroorzaken.Dit is et proces waarbij een uranium- of plutonium-kern door een neutron wordt getroffen.De kern splijt,waarbij twee neutronen vrijkomen,die op hun beurt met twee kernen botsen,en zo voort.Om een kettingreactie tot stand te brengen en te handhaven,moet er een kritieke massa van isotopen zijn die voor de botsingen en zodoende voor grotere aantallen neutronen zorgen.Puur uranium heeft een kritieke massa van ongeveer vijftig kilo.Omdat de technologie voor een toereikende zuivering nog niet bestond,berekende Oppenheimer echter dat er zeker twee keer zoveel voor nodig was.Voor plutonium is de kritieke massa zestien kilo.Bij de kettingreactie komen enorme hoeveelheden energie vrij.
Bohr en Seaborg hadden aangetoond dat uranium en plutonium in vele vormen,of isotopen,voorkomen,waarbij er slechts één per soort een kettingreactie veroorzaakt.Uraniumerts bestaat voor 99% uit U-238 en voor 1% uit U-235.Alleen U-235 is meteen splijtbaar.Omdat de twee isotopen vrijwel identiek zijn,was het moeilijk ze te splitsen.Magnetische splijting draaide op een teleurstelling uit,toen de machine in het Berkeley Laboratorium van de Universiteit van Californië,de cyclotron,niet naar behoren bleek te werken.Splijting per gacentrifuge was mogelijk,maar nog onontgonnen gebied en vereiste meer onderzoekstijd dan de wetenschappers van het Manhattan Project zich konden veroorloven.Uiteindelijk werd in Oak Ridge,Tennessee,een systeem ontwikkeld waarbij uranium hexafluoridegas diverse uiterst fijne filters passeerde.Met deze gassplitsing kon U-238 uiteindelijk van het lichtere U-235 gescheiden worden.Maar zelfs bij een op volle toeren draaiende productie was de opbrengst slechts genoeg voor één bom.
Experiment.
De uraniumbom,genaamd 'Little Boy',was een relatief simpel ontwerp.Zonder de luxe van voldoende tijd of voldoende U-235,gebruikten de Manhattan-wetenschappers alle beschikbare uranium voor een simpele bom waarvan ze zeker waren dat deze zou werken.Aan het ene uiteinde van de cilindrische bom bevond zich het merendeel van de U-235.In het midden zat een klein,hol gedeelte en een kleinere dosis splijtstof was in het andere uiteinde geplaatst.Na het afwerpen werd de kleine lading door een conventioneel explosief in de grotere lading gedreven.Hun gecombineerde massa overschreed dan de kritieke massa en veroorzaakte een kettingreactie.Op 6 augustus 1945 werd de 'Little Boy' door de B-29 Superfortress Enola Gay op Hiroshima afgeworpen.De bom ontplofte op een hoogte tussen vijf- en zeshonderd meter,met een kracht van ongeveer 15 kiloton.De 'Little Boy' veroorzaakte bijna 130.000 doden.
'Fat Man.'
De plutoniumbom genaamd 'Fat Man',was identiek aan het eerdere testwapen,de 'Gadget'.Deze 'Gadget' was op 16 juli 1945 op het Trinity-testterrein nabij Alamogordo,New Mexico,tot ontploffing gebracht.De kritieke massa van P-239 bleek tot tien kilo te kunnen worden beperkt als de splijtstof werd omgeven door de ruim voorradige isotoop U-238.Om tot een kettingreatie te komen,moest het plutonium eerst worden blootgesteld aan een radioactieve startlading,in dit geval een mengsel van beryllium en polonium.Met standaard explosieven werden voorgevormde blokjes P-239 tegen een bol van beryllium/polonium geschoten.De plutoniumdelen smolten dan samen en vormden een schil om de startlading,die boven de kritieke massa kwam.Op 9 augustus 1945 explodeerde de 'Fat Man' op een hoogte van vijf- tot zeshonderd meter boven Nagasaki met een kracht van 21 kiloton.Hierbij kwamen 70.000 mensen direct om het leven.Het uiteindelijkedodental ten gevolge van de 'Little Boy' en de 'Fat Man' lag echter nog vele malen hoger.De radioactieve straling zorgde decennialang voor geboorteafwijkingen en kanker.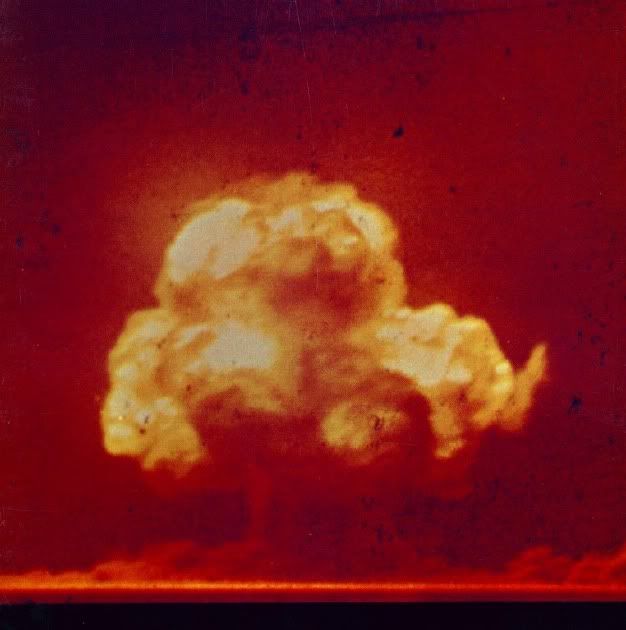 Testexplosie tijdens het 'Trinity-project'.
Atoombom 'Little Boy'.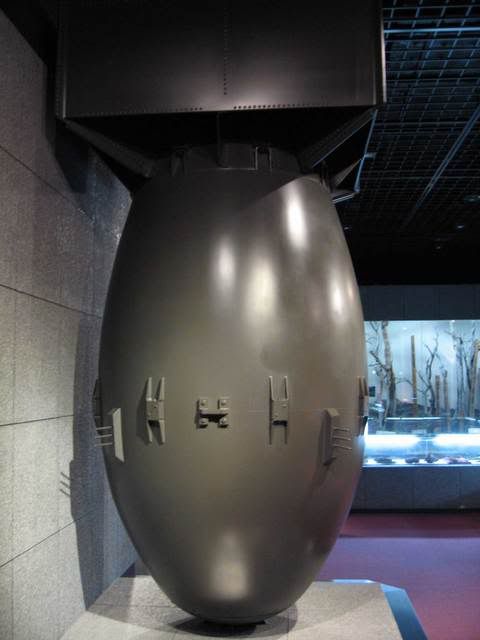 Replica van de 'Fat Man'.

Een paddestoelwolk stijgt op na de ontploffing boven Nagasaki.
De verwoesting van Hiroshima.......geen commentaar.

Gembaku Dome,Hiroshima.

De Enola Gay land na haar verschrikkelijke missie.