Vroege strategische Raket.
De eerste zelfgeleide raket uit de geschiedenis kreeg als bijnaam V-1 (Vergeltungswaffe-1,vergeldingswapen-1) hoewel zijn eigenlijke naam Fieseler Fi 103 was.Het wapen droeg ook de 'dekmantelnaam' FM 76 (luchtafweeoefendoel 76).
De ontwikkeling van deze kruisraket begon in 1942,ten Generalfeldmarschall Milch toestemming gaf voor de ontwikkeling van de Schmidt pulsejet,een nieuw soort straalmotor die een goedkoop geproduceerde 'Vliegende bom' kon voortstuwen.De eerste gemotoriseerde vlucht was op 24 dcember 1942 en na vele vertragingen startten op 13 juni 1943 de bombardementen op Londen.
Aanval op Londen.
De V-1 was uiterst inaccuraat maar Londen vormde een ideaal delwit.De bom werd door een chemisch aangedreven zuiger over een schuin oplopende ril gelanceerd.Honderden lanceerinrichtingen nabij het Kanaal weden vernietigd door Geallieerde toestellen.Gelukkig voor Groot-Brittannië werden de geplande 3000 lancerngen per dag nooit gehaald.(De piek lag op 316 lanceringen vanaf 38 lanceerinstellingen op 2 augustus 1944).Niemand die destijds in Zuid-oost Engeland was,is het geluid vergeten van de naderende bommen,de plotselinge stilte als de motor uitviel en de oorverdovende explosie die nkele tellen later klonk.
Luchtlanceringen.
Er werden meer dan 1200 V-1's vanuit He 111H-22 bommenwerpers gelanceerd en begin 1945 vielen zo'n 2450 exemplaren op Antwerpen en Brussel.Er waren verschillende varianten,zoals de lange-afstandstypes met een grotere spanwijdte en een houten omhulsel om de lading.In totaal werden meer dan 29.000 V-1's gebouwd,vrijwel allemaal door tewerkgestelde jongens en mannen in de Mittelwerke.De Reichenberg IV versie werd gevlogen maar niet operationeel ingezet
Specificatie.
Type:
Kruisraket die vanaf vaste stellingen of vanuit de lucht gelanceerd werd.
Aandrijving:
Een argus-Schmidt 109-014 pulsejet met een freqentie van ongeveer 47 hz voor een stuwkracht an 2,94 kN op zeeniveau.
Prestaties:
Snelheid rond 600 km/u of (vanaf eind 1944) tot 800 km/u;Bereik 240 km.
Gewicht:
Lanceergewicht 2180 kg.
Afmetingen:
Spanwijdte 5,3m of 5,7m;Lengte 8,3m of 7,7m.
Wapenkop:
850kg.
Geleiding:
Een automatische piloot hield koers vanaf de lanceerbaan en een propellerlog met de afstand.Op het geschikte moment werd de brandstoftoevoer afgesloten en de duik ingezet.
Besturing:
Alleen hoogteroeren en richtingsroer.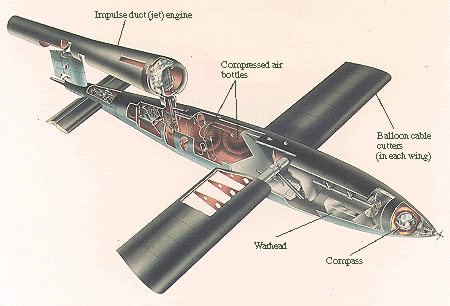 Opengewerkte tekening V-1.

Een Fi 103R Reichenberg.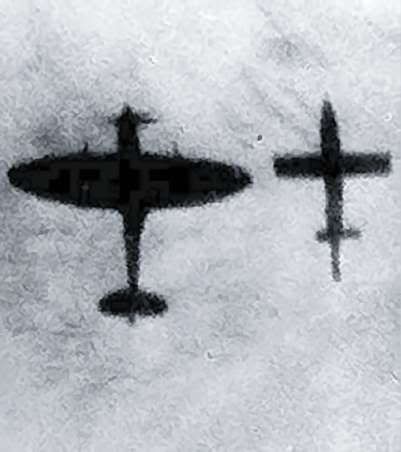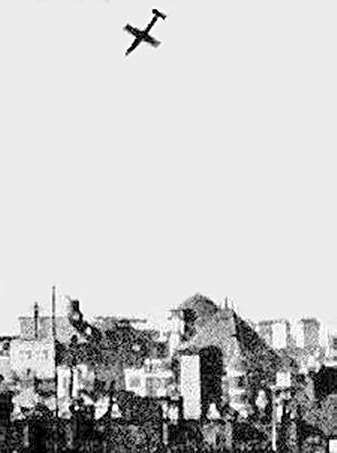 Twee unieke foto's:
Bovenaan:Een Spitfire probeert met zijn vleugeltip een V-1 uit koers te brengen.
Onderaan:Een V-1 enkele seconden voordat hij dood en verderf zaait in Coventry.